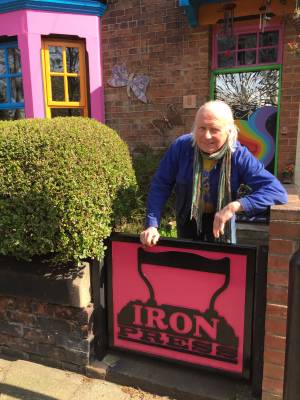 As publishers become more corporate, global and boring, IRON Press champions new quality writing as it has done since 1973. IRON runs events and launches; it also thinks literature is both serious and fun.
IRON Press editor Peter Mortimer chooses his words carefully in his latest entry on the Inpress blog.
IRON Press is delighted to announce that you can now use your debit or credit card to buy our books. We use PayPal to process card payments, but they don't share any of your card details with us, just your name, address, and what you've bought. You don't need a PayPal account to shop with us, but if you have one you can of course also use your PayPal balance. You can use PayPal to buy just one book, or a whole shopping cart full of them!
Find out how it works - or have a look at our latest books and start shopping!
---
Latest Books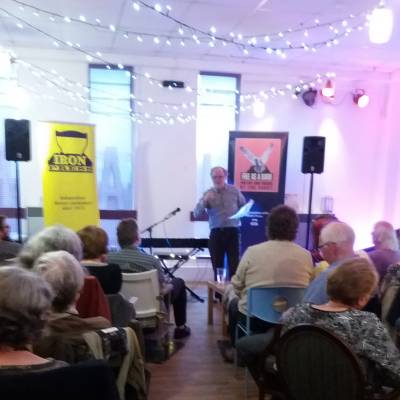 George Jowett's new pamphlet, Thatcher's Folly, was launched at a Free as a Bard event in June, and again at Newcastle's Lit & Phil in July! This hilarious if scurrilous canto imagines Margaret Thatcher caught in an embarrassing liaison at the Grand Hotel, Bournemouth. Sparked by a proposal, from editors Andy Croft and Nigel Thompson that poets should collaborate on a modern Don Juan, written, like Byron's original, exclusively in ottava rima, this is George Jowett's second, bonus canto.
John Price also read from Bye Bye Blackboard, his collection of poems inspired by the horrors of school days, published by Iron Press earlier in the spring.
Still to come...
Coming later in 2016, a collection of richly comic poems springing from the experiences of a being a lifetime stutterer.
See our Coming Soon section for details.
---
IRON IN THE SOUL
The Third IRON Press Festival of Words, Music & Oddities
Cullercoats, June 8 - 11, 2017
After two highly successful celebrations in 2013 and 2015, Cullercoats publisher IRON Press has announced news of a third festival, IRON in the Soul, to be held in June 2017.
Once again, the distinctive North East village sea front will play host to a succession of eye-catching and unusual events combining the famous and the downright odd.
Read more about the programme so far on our News page.
---
CALL FOR SUBMISSIONS
for an anthology of new ghost stories due from IRON in 2017
IRON Press is seeking submissions of previously unpublished ghost stories for a new anthology, Cold Iron, to be co-edited by Peter Mortimer and Eileen Jones. Contributing writers will receive a payment of £50 per included story and one free copy of the anthology, and will be able to buy further copies at trade price. And - advance warning to those of a nervous disposition - we're already investigating some suitably spooky options for launch events in 2017.
The closing date for submissions is 30th September 2016. It is essential to check our News page for further details before submitting (no more than two) stories by post only please.
---
An historic book back in print
We first published this historic little book in 1992 and it ran to six prints.
The Haiku Hundred sold more than 10,000 copies making it the biggest selling book of English language haiku in the UK. It has been out of print for many years but is now published in a new format with every one of the 100 haiku intact.
We would be delighted to hear from many of the authors who, in the intervening twenty-three years, are no longer contactable. This would enable us to send them complimentary copies.
Read more about The Haiku Hundred here...
---
SUBMISSIONS: An Announcement
Small press editors sometimes need a breather both to retain their sanity and to reduce the likelyhood of being submerged by hopeful writers' work. IRON Press now has more than two years of new books in the pipeline. And we are girding up for the dubious delights of putting together a new Arts Council England application.
We are therefore not currently accepting submissions. Editor Peter Mortimer says: "Much as I am excited by and love seeing new writing in print, I am taking a break until the end of the year from considering any more mss. Please indulge me. The alternative is a broken man."
Many thanks!
---
Photo of the IRON gate © 2015 Dylan Mortimer; IRON gate made by John Charlton, from the original logo design by Geoff Laws.